SCHOTT presented a trend-setting market innovation at EuroShop 2020: thanks to an innovative frame construction, the international technology group succeeded in reducing the dimensions of the profile structure for wall mounted freezer cabinets by 50 percent, compared to conventional glass door systems. At the same time, the slim frame design of SCHOTT Termofrost® Slimline is much more energy efficient.
According to a study by the German Frozen Food Institute (DTI), frozen food products are becoming increasingly popular. With 1.3 billion contacts per year on chests and shelves, the frozen food sector is a driver for high store traffic in stationary food trade. In order to make shopping in these aisles an enjoyable customer experience, new incentives are increasingly necessary at the point of sale, for example, features for easy orientation and improved comfort.
The new glass door system from SCHOTT that promotes sales in store relies on a particularly thin and elegant door and frame profiles design to improve the visibility of the goods. As a result, SCHOTT Termofrost® Slimline offers a much larger display area and therefore enables faster orientation in the frozen food department.

Compared to previous door-frame systems, the visual interruptions are reduced by half. "A good view of products and thus quick orientation at the retail shelves are essential triggers for sales in the food trade," explained Dietmar Nilles, Sales Manager Food Display at SCHOTT. "We completely revised the frame technology of glass door systems for freezer cabinets intending to provide an enhanced view of the goods. Our new system not only looks much better but also consumes much less energy."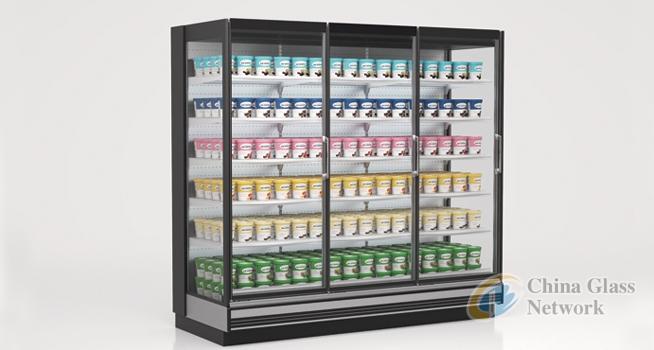 Freezer cabinets, therefore, also benefit from the new glass door system in terms of energy efficiency. Thanks to an entirely new design, the heat transfer through the glazing unit into the freezer cabinet is reduced by up to 25 percent and the energy consumption of the frame structure is minimized. Besides, SCHOTT Termofrost® Slimline can be configured according to the customer's specific needs to adapt it to the existing shop design. For example, several colour options are available, or the door construction in the "Skyline" version allows covering of the complete front of a refrigerated cabinet, including the head area.